Swing Productions has been promoting swing dance since 1992 with Lindy Hop beginner classes and workshops. The courses take place weekly and grow in complexity with your newly learned skills. Workshops are unique, intensive classes that are not limited to Lindy Hop and Charleston, but also include other dance styles of the Swing era. At festivals, there is usually a long weekend of dancing and learning all day long, taught by internationally renowned teachers, followed by fabulous parties every night! Our team supports the extremely popular IsThereHop Festival, every year at Easter.
Courses
Our Charleston and Lindyhop courses are still the cheapest in the city of Zurich. We also offer discounts for students. This allows you to build your newfound passion for as long as you like. Our instructors will prepare you for the swing dance floors of the world, so you can move to any song. Lindy Hop and Charleston are the basics. For Balboa, Shag, and Electro Swing we offer regular workshops. You are welcome to attend these when you have had your first experience in the classes.. You can find more information about the curriculum under the timetable.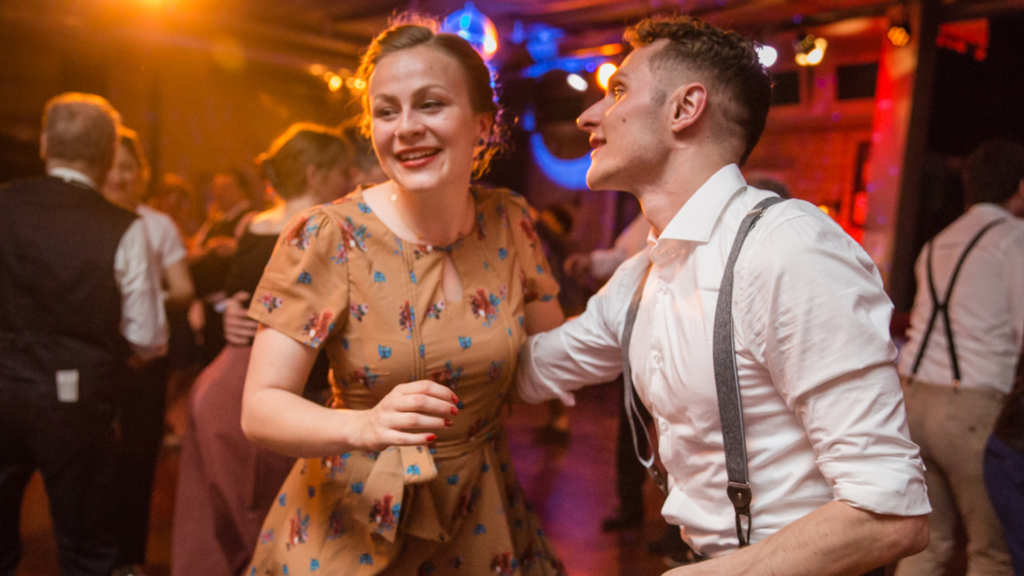 LINDY HOP 1
We recommend all beginners and beginners to start at Lindy Hop 1! We start with the basic step and learn swing outs as well as the Charleston step. Leading and being guided, turns and jig walks are also part of it. Even if you already have dance experience from Jive or Boogie Woogie,we still recommend that you attend the Lindy Hop 1 course first.
LINDY HOP 2
We recommend this course after attending the Lindy Hop 1 course or a Lindy Hop 1 Weekend Workshop. You will learn more Lindy Hop basics like the Back-to-Back Charleston, Mini Dip, Texas Tommy, Peckin', Fly high and great Swing Out variations. If it's enough, let's also look at the blues!
LINDY HOP 3
Here you are welcome after a Lindy Hop 2. You already know some basic figures and feel confident in the change from six to eight steps. You will learn other Swing Out variations such as the Texas Tommy, Suze Q and many more. In addition, you practice music too fast and slow and learn to interpret the music better.
LINDY HOP 4
Ideally, you have already visited the Lindy Hop 3 with us. Dancing to faster music is the order of the day, styling is becoming more and more important. More complex sequences of figures allow us to improvise to any music. A good portion of music theory with an insight into the structure of a swing piece round off the training.
LINDY HOP 5 +
Prerequisite for the entry into these courses is the mastery of the basics from the Lindy Hop 1 to 4. In addition to the first show dance elements, in-depth techniques for the social dance floor as well as the complex communication between followers & leaders are also used.
LINDY HOP ADVANCED
We are working on the Social Dance Skills. Musicality, lead follow and dancing to fast music are part of the program.  Prerequisite for the course attendance is at least a Lindy Hop Intermediate-Advanced Level and the willingness to train independently between the lessons.
Workshops
In our workshops we offer deeper insights into swing dance. You will find access to Balboa, Shag, Charleston, Solo Jazz and even Electro Swing. Our offer covers the whole history of swing dance and allows you to satisfy your growing curiosity. Allow yourself a little adventure and expand your dance repertoire on your way to becoming a swing veteran!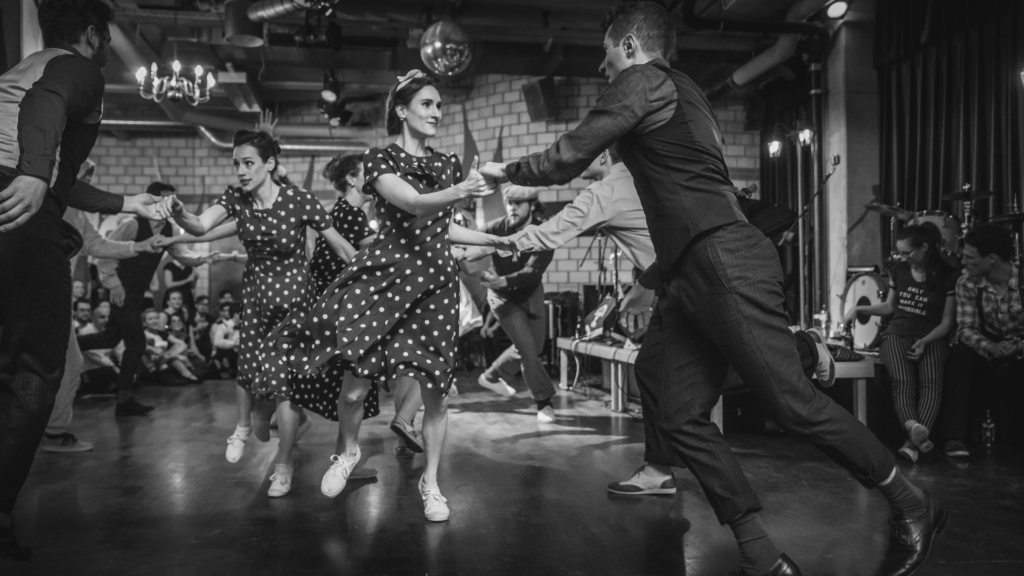 LINDY HOP 1 – Beginner Weekend
Lindy Hop is the couple dance from the Black-Afro-American-Vernacular-Jazzdance tradition and is danced to swing, to the music of Count Basie, Louis Armstrong, Glenn Miller, Ella Fitzgerald. Dance and music radiate a positive attitude towards life and joie de vivre. In Lindy Hop 1 you will learn the basics of Lindy Hop in seven lessons. The teacher couple Yaiza & Beat not only teaches the basic technique but also the joie de vivre of this dance. In this workshop the focus is on the swing out, side by side Charleston and the six counts.
Electro Swing – Beginner Workshop
Would you like to dance to Electro Swing music? Then look forward to a Beginner Electro Swing Workshop – Alex will show you all the basic steps and a cool choreo. You will learn moves from different swing dances to electro swing music. You will also work with Alex on the booty swing routine.
Balboa Beginner Workshop
Interested in learning Balboa? And finally being able to dance to fast swing music? Then look forward to a Beginner Balboa Sunday – Susanne & Peter will show you the basic steps!
Charleston Workshop
Want to dance to fast music? Then look forward to our Charleston Workshop (Solo or Couple) – Paula & Emu will show you all the basic steps to the fast 20ies music and a cool choreo.